Project- and interface management
Expertise from experience
Project management with Dürr Consulting
We are familiar with the challenges and pain points of production at first hand, because as part of the Dürr global technology group, we have a direct insight into the manufacturing of technical equipment and machines. Our considerable competence in implementing project management solutions in a production environment is based on the countless lessons we have learned.
Project Management Office (PMO) Services
to support your strategic corporate goals
Our well-established project management office (PMO) services help you to keep track of schedules, quality and costs. Depending on your requirements, we can take full or partial responsibility for your project management tasks, including project launch and division into subprojects, project reporting, status checks on the interfaces, plus quality management, and cost, progress and schedule monitoring.
Interface Management
Involving all the interface partners
We help you with coordinating and managing the interfaces with a wide range of internal and external project partners, such as planning and product development departments, suppliers and operators, and also with representatives of the maintenance and IT departments and the management team.
Efficient implementation management for your production
With the intention of keeping costs and risks to a minimum, we develop methods for the efficient implementation of your production process. The aim of our implementation management service is to ensure that the entire project is on time, on budget and in scope, for example during the process of coordinating the integration of new products into existing factories.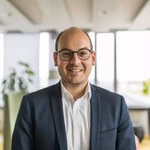 Ulrich Grimm
Dürr Systems AG
Carl-Benz-Str. 34
74321 Bietigheim-Bissingen
Germany