From the conception of an idea through to start of production, Dürr Consulting is your ideal partner. As expert process planners, we use 3D technology to achieve even better factory planning results. Prior to the construction phase, you can take a virtual tour of your factory and view the entire process through simulations.
The three different planning phases are depicted virtually from the very start:
First, we work with you to define the scope of the project and its objectives, and define the initial process planning.
In the second phase, we work with you to create a conceptual framework with a rough layout plan of your factory. Here, material flow and cycle times are analyzed and space requirements are determined.
This phase focuses on detailed layout planning using process simulations and process validation. These steps help to easily identify weak points and sources of error in previous planning phases (such as those relevant to interfaces) so they can be eliminated immediately. During this phase, simulations that include the identification of errors and failures are carried out to uncover bottlenecks in production sequences, define realistic cycle times and output rates, and validate the overall factory plan.
3D virtual factory planning
Our 3D simulations are done primarily in cooperation with the Dürr subsidiary DUALIS. DUALIS provides the software for simulating, planning, and optimizing production and production lines.
One big advantage of virtual factory planning is that you, as a customer, receive a validated concept from us. You not only see the plan on the computer, but you can also step directly into the new factory using VR glasses. This allows us to create a common understanding of how the line will function early on so we can eliminate fault sources, such as cycle time problems or failure to achieve target availability, while still in the planning phase.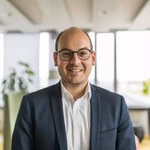 Ulrich Grimm
Dürr Systems AG
Carl-Benz-Str. 34
74321 Bietigheim-Bissingen
Germany